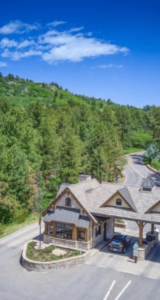 What Makes the Village at Castle Pines Stand Out from Other Gated Communities in Denver?
When purchasing a home in the Village of Castle Pines, most residents in this beautiful community would tell you it was the amenities that attracted them. The walking trails, three pools, tennis and pickleball courts, fitness center and playgrounds. They can't get enough of the gorgeous mountain views, the wildlife and the quiet environment.
If you're thinking of investing millions of dollars in a home, you want to be sure it's in a neighborhood that will maintain value over time. Our residents love living in a community with high-quality homes, architecture and the beautiful, forested environment.
Not to mention the convenience to Denver (30 minutes), the Denver Tech Center (20 minutes), Castle Rock and Castle Pines (10 minutes or less!) and the Village Shops – you could ride your bike it's so close. And you can get to those famous mountain communities in an hour or two, but most Village at Castle Pines residents say they feel like they already experience mountain living, but with city convenience.
What brought you here, won't keep you here
Once you've lived here a while, most of our community would say their reasons for loving it changes a bit. The safety and security of the gated community becomes more important. The presence of emergency services provides a peace of mind they didn't realize they craved.
"Emergency services personnel at Gates are so helpful and kind. When our little one had a bad fall, they quickly came out to check her. We feel so safe here."
You're not joining a neighborhood, you're joining a community You'll find the many social events and clubs here help you meet people and become a part of the community quickly. Whether you're interested in sports, walking groups, gardening, book clubs, or, of course, golf, you'll find many opportunities to get involved.
On top of that, the Home Association hosts several family-friendly events throughout the year. Whether it's the ever-popular Oktoberfest, Emergency Services Pancake Breakfast, or the Fourth of July Parade, there are so many ways to get out and meet your neighbors and be a part of this fantastic community.
Speaking of community, we'd be remiss if we forgot about our fur and feather-covered neighbors. With abundant open space and many homes on large lots, the wildlife finds they are welcome neighbors in this gated community."We had no idea we would be sharing our surroundings with elk, bear, falcons, bobcat – which we embrace!"
This gated community south of Denver has everything you could want. Proximity to your favorite things, abundant views, and wildlife, safety, and security provided by the gate and emergency services, a community of people that become lifelong friends, and the high-quality homes to ensure your home investment is one you can count on."We consider it to be one of the best communities in the country."
To keep up to date on the activities happening at The Village at Castle Pines, follow us on Facebook and Instagram. The Village at Castle Pines is in the heart of Castle Pines, Colorado in Douglas County. A family-friendly gated community established in the 1980s. The Village is home to nearly 2,000 homes on miles of majestic land and beautiful Colorado views.