There are certain lifestyle elements and amenities that make The Village at Castle Pines stand out from other Douglas County neighborhoods. But for families, some of these benefits have special significance.
Top five reasons The Village of Castle Pines has become a sought-after family neighborhood.
The gate. It goes without saying that living in a gated community makes for a safer neighborhood. It provides peace of mind for families of children. If you grew up playing in the street as a kid or remember hanging out with the neighborhood kids, you know what an influential aspect of growing up that was for you. The Village's gate protection means kids can play in the many parks, open spaces, or back yard with that same secure feeling.
Active kids will love this place! Two family-friendly swimming pools, tennis courts, pickleball courts, a basketball court, playground equipment, trails, killer sledding hills (if your home doesn't already have a solid vertical drop), an activity field, and a volleyball court are available year-round. On top of that, the Village hosts a local swim team, youth tennis, and of course, for Country Club members, there is a fantastic golf option. Bike riding and dog walking are other favorite pastimes of the many families in our neighborhood.
Great schools, nearby. Douglas County boasts some of the best schools in the state of Colorado. Choose our neighborhood feeder schools: Buffalo Ridge Elementary School, Rocky Heights Middle School, or Rock Canyon High School. Looking to apply for a charter school? Several Douglas County charter schools are within minutes of The Village of Castle Pines. And for those that are private school-bound, many elite private schools are just 15 minutes away on the north side of Douglas County.
Wildlife and nature are abundant. Nothing creates quite the same level of learning as curiosity about the world around you. With many different species of wildlife and natural open spaces, our Village can stoke that curiosity. Our Wildlife Committee regularly hosts wildlife programming that kids will love! And speaking of cool events, the Homes Association hosts many family-friendly events throughout the year: Oktoberfest, Fourth of July parade, the summer picnic, movies in the park, and more.
A neighborhood that serves the many stages of your family life. When kids are younger, a home with plenty of space for crafting, Lego builds, and gymnastics fits the bill. As teens get older, separate "hang out" areas might be in order. And college-bound kids may find themselves coming home to a smaller home base. Nearly 20% of residents of the Village Castle Pines are in their second home in the Village. With different styles and types of homes, you can make this the last neighborhood decision you ever make. Once you've lived here for a little while, you'll understand why so many residents decide to make the Village home throughout the many stages of their life.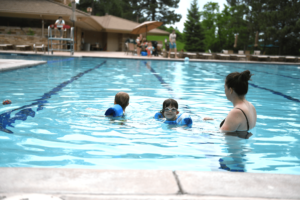 The Village at Castle Pines is a great family-friendly neighborhood. The lifestyle amenities, spacious homes, fun neighborhood events, access to top-notch education, and of course, the peace of mind from living in a gated community can make living in the Village decision the best and last neighborhood decision you ever make for your family.