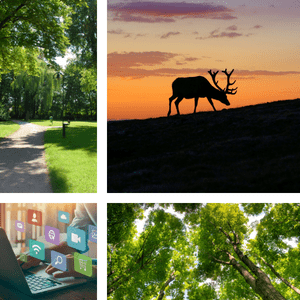 Volunteers Lead the Community with Passion
The Village at Castle Pines offers a robust collection of committees for our community members to join. We have ten committees and over 100 volunteers who give their time and energy to help make a difference in our neighborhood. Our active volunteer roster means that we can keep paid staff levels (and association dues) low. Volunteering is a great way to meet people and to understand how our community is managed. With nearly 2,000 homes in our neighborhood, we are as large as a small town – with everything a small town needs. Below is a description of our active committees. 
Design Review Committee  
The Design Review Committee is responsible for the review and approval of all proposed improvements within the Village. This group of volunteers ensures the protection of property values and quality of life by overseeing the appearance, condition, and use of the land, buildings, landscapes, and other improvements.
Emergency Services Committee 
Emergency services is one of the things that sets our community apart from others. This dedicated group of volunteers creates a long-term vision for the community's safety and provides oversight and feedback on the emergency services operation and performance.
Enforcement Committee 
The Enforcement Committee conducts monthly hearings to determine whether violations of the covenants have occurred and, if so, work in partnership with those in violation to address any issues. 
Forest Stewardship Committee
This hard-working group ensures that our number one community value is maintained.  This team of volunteers also monitors our forested areas for fire mitigation and keeps a close eye out for the pine beetle.
Long Range Planning & Finance Committee
This group was formed to oversee budgeting and long-term spending.  While each committee has its own budget, this group ensures oversight of the entire budget.
Parks & Recreation Committee 
This committee guides the recreational in the community through prudent additions and maintenance and the oversight of the existing facilities and the addition of new facilities to ensure all enhancements will complement the natural environment and beauty of the community, be easy to maintain, and receive maximum use by the community. In addition to the facility oversight, this committee also manages the trails, open space, and common area landscaping. Events are planned to attract participation and foster a sense of community.
Technology Committee 
Our volunteers maintain and grow our master technology plan for The Village at Castle Pines. They develop plans to improve how technology services enhance the lives of those who live and work in The Village. 
Village Communications Committee 
The Communications Committee is responsible for overseeing the communications to Village residents through the Village Reporter, the Village Weekly email, the website, and the gate signs.
Wildlife Committee 
Living with the diverse wildlife of the Village requires an ongoing commitment to understanding and informing residents of the best way to peacefully coexist. The volunteers within the wildlife committee are committed to helping residents with injured, ill, or aggressive animals.
Marketing Committee 
The marketing committee focuses on the internal and external brand experience and how people connect to it. The marketing volunteers are focused on communicating the value of our community amenities and services, supporting home sales, and maintaining home values through external communication channels including the website, printed brochures, and social media.
Volunteering is an important component that makes our community stand out from others. Our neighbors who want to have a deeper connection to where they live can join any committee or volunteer at any of our special events, community gatherings, or programs.