Keeping You Safe is Priority #1
For those tired of living in crime-ridden Denver and looking to find a better quality of life – look no further than the Village at Castle Pines. In addition to great schools, abundant amenities, and sweeping front-range views, we also have the peace of mind that comes with a fully staffed Emergency Services department.
Emergency Services are the most significant percentage of the Village at Castle Pine's annual budget, but many potential residents may not understand what that means. 
We have 40 full-time employees in Emergency Services when we are fully staffed. These trained professionals are ready to ensure your life in the Village at Castle Pines is as safe and secure as possible.
Gates. We have five gates that provide privacy and a layer of protection to deter and prevent crime. Each gate maintains its own hours, and all gates offer after-hours access for residents. Guests must provide a driver's license to gain access to the Village, adding yet another level of security.
Patrol. Yes, traffic patrol is a part of their duties; however, they are not just looking for speeders. They ensure the many bikers, walkers, joggers, and kids playing in our active community can do so in a safe environment. This includes monitoring road conditions and hazards like fallen trees.
Emergency Medical Services. On every shift, at least one licensed EMT can provide emergency medical attention. Just this year, our EMTs have saved one life with their quick response! It can sometimes take the Douglas County EMS team several minutes to arrive on a scene. Our ES team takes pride in their response time and knowing you have medical assistance minutes away. And it's not just for dramatic medical needs. Bike falls with scrapes and bumped knees, slips on ice, and sports injuries can also benefit from quick help.
Vehicle Assistance. Need a jump? Or maybe you slid off the road on a nasty piece of ice? ES will be there in minutes to help get you on your way or keep you safe while you wait for more extensive help.
Home Security. Whether you are using our trustworthy vacation check service or home alarm monitoring, the peace of mind of knowing that your house is being looked after whether you are there or not is a great feeling. Every home comes with emergency buttons that tap directly into Emergency Services to send help your way instantly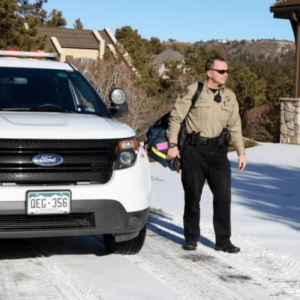 Emergency Services make the Village at Castle Pines the perfect place to raise a family or to age in place if your health, safety, and care are top priorities. It's a big budget item in our annual budget for a good reason. Each resident values this level of service. If you're considering a move to the Village at Castle Pines, you should know how hard your Homes Association dues work to make your environment as peaceful as possible.