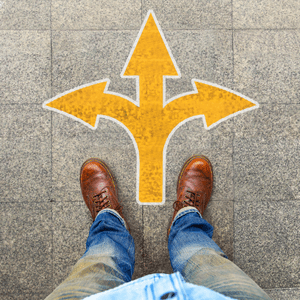 The Village at Castle Pines lives in that sweet spot – close to the extensive city amenities of Denver and even closer to the luxury of open space and views of the glorious front range. So how far is the Village at Castle Pines from the things you need in your life?
Let's start with work.
Those who work in the Denver Tech Center love the Village's 20-minute commute. It's hard to imagine spacious living can be just 20 minutes from a bustling tech power center, isn't it? But, even if you're going into downtown Denver, you'll still appreciate the 45 minutes door-to-door. And being able to live in a little oasis makes it worth the drive. Just 45 minutes into downtown for arts and culture events, and Red Rocks outdoor amphitheater is only 30 minutes away.
Thinking about everyday living basics?  
Whole Foods, King Soopers, and all the associated complementary stops are down the street in the Promenade. No more than 5- to 10-minutes depending on where you live in the Village.  
Upscale shopping can be found at Park Meadows Mall, just 15 minutes up the road in Lone Tree. In addition, the Outlets at Castle Rock next to the Promenade area include many high-end factory stores. Or if local is more your style, downtown Castle Rock boasts many lovely boutiques and specialty shops a mere 15-minute drive from the Village.
Headed to the mountains?
You can be in Idaho Spring in one hour. Copper Mountain is 1 hour 45 minutes, Breck in two hours. Most Village residents will tell you that living here feels like living in the mountains every day. Hence, trips into the mountains tend to be reserved for special activities.
By living in the Village, you are also only one hour from downtown Colorado Springs. You can access the fantastic outdoor recreation of Pikes Peak, arts and culture, shopping, and athletics. Downtown Castle Rock is less than15 minutes away and features many local events. Castle Pines is less than 5 minutes away, depending on where you live in the Village.
The land-locked Denver metro area requires airports to give you access to the rest of the world. Luckily, you've got options. First, Denver International Airport is just 45 minutes along an easy E-470 drive. Second, Colorado Spring's airport has a surprising number of easy flights if DIA is too much chaos for you. And finally, for the best in luxury travel, Centennial Airport is 20 minutes away. It is one of the busiest private airports in the United States. (And includes a high-quality restaurant if you just want to go check out the cool planes over a cocktail). 
But… the very best part of the Village is the Village Shops – our own "downtown" right here in our neighborhood. You can get most of what you need right here. Tony's Market has everything you need for a nice dinner at home, or you can enjoy one of our four restaurants for a night out. Shopping is available at several specialty shops. Personal care is easy with our newly expanded day spa, hair salon, or nail salon. Two dentists, a pet store, a gas station, and more. All the things you need are right here in your neighborhood.
Once you live in a gated community like the Village at Castle Pines, it's hard to imagine living anywhere else. Proximity to travel, shopping, arts and culture, and work means your home is close to the bustling activities of your life.